Hello again!
This week, Stella has started to get her groove back! I am feeling less sick, but still tired through out the day. I am able to brush my teeth at night without gagging so that's exciting!
Boy, do I need to get a tan... Yikes!
The dress I am wearing is actually a maternity dress (yes, I'm already buying maternity clothes...). After reading
Stephanie's blog
and her love for this
maternity clothes website
, I had to get this dress (
similar
)! It is the most comfortable thing I've ever worn! The material is so soft too!
How far along: 13 weeks!
Baby size: Peach :)
Baby's progress: Baby is about 2.9 inches long and weighs about .81 ounces. Baby's head is now about 1/3 the size of the body. Baby has fingerprints and is forming vocal cords! (source: The Bump)
Weight gain: Don't know... don't want to know!!
Sleep: Falling asleep is easy. I have had to get up a few times through out the night to go to the bathroom :/
Gender: Don't know yet... Can't wait to find out! I'm thinking boy, Bill is thinking girl. We will see who's right :)
Movement: None yet. Although, we did see our little peanut move a lot during the last ultrasound!
Best moment this week: Starting to feel better through out the day. Able to get more done during the day. Buying little peanut outfits!
Looking forward to: Finding out the gender!!! Also, getting out of the 1st trimester and getting more energy. And no more nausea please :/
Food cravings: strawberry frozen yogurt with rainbow sprinkles (Yep, this one is still going strong!), fruit, fruit juices, ice cream... This week I had to have mandarin oranges?! I've been eating a small pack a day. Also, smoothies! I found the best smoothie place by my house called, Pulp! My fav is the Anti-Oxiberry made with blueberry, pomegranate, acai and yogurt.
Weirdest food I ate this week: Nothing really out of the ordinary??
Anything making you queasy or sick: Brushing my teeth still makes me a little queasy. Some floral scents and cleaning products make me feel queasy too.
Labor signs: too early!
What I miss: Coffee and having more energy. This week, I did miss the alcohol thing a little. While out to dinner for our date night, we sat on a really nice patio... Would have been nice to order a fruity cocktail or a glass of wine! Also miss fitting into my cute clothes/dresses/shorts... I guess that means I need to shop for cute maternity clothes!
Symptoms: Some nausea, but is getting better. Tired in the afternoon and evening. Bottomless pit! Always hungry!
Workouts: Went on a few long walks with Charlie. Randomly doing squats. I got a pregnancy Yoga DVD that I want to start doing this week.
Things that suck: Still feeling a little ill at times. Feeling tired through out the day. Not being able to go out and stay out too late. Not being able to enjoy a nice cold adult beverage on a patio during this awesome weather! Clothes and bras feeling tight!
Things that don't suck: There's so much that doesn't suck! Please reference this post :)
That's all for this week!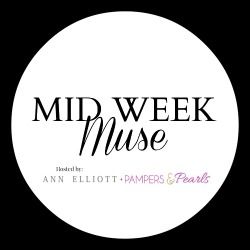 PS - If you are pregnant and have a blog or know of any pregnancy blogs I should follow, please list them in the comment section below! I love finding new mommys and mommys-to-be!